If there is one thing that the last decade has shown us, it's that nothing stays the same. This is true in all aspects of healthcare. Everything from patient records, writing prescriptions, navigating reimbursement, analyzing risk, and updating treatment protocols have changed.
Change Is Inevitable
One area that many may have thought would remain — the office visit — has also evolved. No longer is it limited to the tried and true sign in, take a seat, see the provider. Patients can now check in online; they can request appointments and refills via secure patient portals, ask questions, and validate or update their information. But why stop there? What about the office visit itself?
This sounds like great idea, especially if a patient lives in a remote area or has difficulty making it to the medical office. But do patients feel they are getting their money's worth? Will this model satisfy the service needs they have come to expect?
Patient Satisfaction = Patient Retention
Surveys measuring the patient satisfaction with telemedicine have been ongoing for many years. In 1993, the University of Kansas Medical Center implemented a survey to measure the satisfaction of patients with their Hays Outreach Clinic. Their findings showed promise for this novel approach. In a letter to the editor in the October 1994 edition of the American Journal of Public Health, Dr. Ace Allen and Jeannie Hayes, MPH submitted their findings in a letter titled, "Patient Satisfaction with Telemedicine in a Rural Clinic." They used interactive televideo as the medium to communicate with patients. The conclusion is this method of seeing a patient was a "viable alternative" to the office visit. The technology has improved exponentially since then. There have been vast improvements in connectivity, bandwidth, and device ownership. In 2015 it was reported that 68% of all Americans owned a smartphone and 45% owned a tablet device.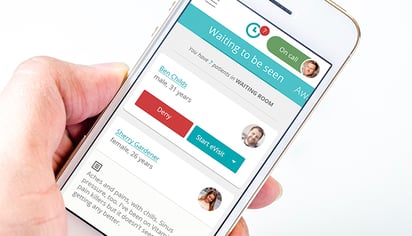 The Virtual Care Experience
One such exponentially better telemedicine platform is eVisit; the top-rated telemedicine application allowing providers and patients to not only communicate in real time, but to review past visits, prescribe medicines, accept payments, check insurance, and all on a HIPAA compliant platform. It has scored high on patient satisfaction surveys. Centra Care, the urgent care side of AdventHealth, has been using a bespoke version of eVisit for many years and patient satisfaction has been overwhelmingly positive.
Post-Operative
Treatment via a virtual platform is especially helpful for patients who have just left the hospital environment after seeing one — if not many — specialists. Or those who have a chronic health condition that needs consistent monitoring, yet do not have the means to make it into the provider's office on a regular basis.
Chronic Conditions
Patients with chronic conditions like diabetes have also reported general satisfaction when they have participated in tele-consultation. Many of these patients have severe to moderate mobility issues. Having to find transportation to a medical building can require a lot of planning and expense. The physical challenges of getting to and from an office are trying as well. These can be reasons they opt to cancel or no-show to an appointment, but with access to a mobile app from their home, it becomes a non-issue.
Orthopedics
Another group that reported a positive response to the use of "video-assisted remote consultation" are orthopedic patients. Travel for them can often be intimidating, cumbersome and painful. A significant number of patients who participated in remote visit reported they preferred their next visit to be remote as well. This positive satisfaction with orthopedic patients was also reported in the Journal of ISAKOS: Joint Disorders & Orthopedic Sports Medicine.
Rural Medicine
Not only is telemedicine beneficial and convenient for patients with mobility issues, but it can benefit patients who live in rural areas and must battle poor road and variable weather conditions or a lack of infrastructure. After the hurricanes of 2017, there was a considerable increase in the use of telemedicine visits. Many patients who could not make it into their provider's offices after the storms wreaked their damage on the Gulf Coast were seen via telemedicine. This was a major benefit to these individuals who, if not for the availability of telemedicine, would not get the care they deserve.
Flagstaff Medical Center developed a patient monitoring program for at-risk patients by utilizing telemedicine. It's not perfect, as many patients still have no electricity, but they have family members with smart phones who know where there is cell-service, but Gigi Sorenson, RN, the director of the Community Connected Care and Telehealth stated in the April 1, 2017 article, "Patients who agree to monitoring say they feel safe and supported."
Telemedicine, virtual office visits, telehealth, no matter how it is described, is making an impact on the healthcare environment. It's not what many patients and providers alike may think it is, or was. It's no longer a phone call with a nurse just gathering specific information. It's a full one-on-one, interactive experience that seems to be improving and expanding as only technology can.
Healthcare systems are seriously looking into the viability of telemedicine not only from business and provider perspectives, but also that of the patients. There is a preponderance of positive feedback from patients who have participated in surveys about their experience with telemedicine, and its use is proving to improve overall patient satisfaction and engagement. The point of objection that patients will not accept telemedicine is becoming moot. Patients enjoy the freedom that the virtual office visit provides. They receive quality care from a provider they trust and their day is not scheduled around getting to and from an appointment.
In today's world of tech-savvy patients and ever-improving connectivity (look at how online shopping has affected today's commerce) it makes sense to seriously investigate the viability of telemedicine in your practice.
If you are on the fence about using a virtual office visit platform like eVisit in your office or campus, request a demo to see how detailed and comprehensive it really is. Patients seem to like this option and you may find that you will too.